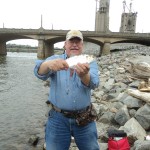 I'm sure you all think I am hung up on the mantra which God has been teaching me, "Faith is caught, rather than taught," but here is another prime lesson.
That is yours truly in the picture holding an American Shad which I caught and released from the James River, in Richmond, just above the 14th Street bridge. I have been working on this accomplishment for 46 years. Yes, since the age of 15, I have been diligently seeking to catch a Shad, also known as the poor man's salmon, for its speedy rush, unbelievable leaps from the water and head shaking lunges for freedom. Like the salmon, the shad is an  androgynous fish, living in salt water all year and coming up the fresh water stream of its birth to spawn in the spring.
As a teen, I would try to get my Dad to drive me to the Delaware River to fish for shad.  When Martie and I first married, I would take her camping every weekend in May, in hopes of catching shad. When Our kids were older we lived in the Lehigh Valley of PA where the Forks of the Delaware Shad Festival is held every year on the banks of the river in Easton PA. I stood there sit by side with all the other anglers, hip deep in the river, and never caught a fish. For years, I followed the runs up the river into the Poconos, with no success. Even after I moved out of shad territory, I tried to get my fishing buddies to go in with me to hire a shad guide for a day – no takers. In the almost 3 years I have lived in Richmond, I have tried to hire a guide, get local advice, read books on fishing the James, and kept asking complete strangers how to catch one. No dice. Until this past week, I was not even able to figure out where to park to access the river in a good spot.
Life lessons, spiritual truths, and discipleship are no different. To learn something new, it really helps to have someone who knows what they are doing, teach you. No matter how smart you are, its awfully hard to learn many things by reading books, watching others out of the corners of your eyes, and trying to guess how successful people do it. We all need mentors to show us how. Anything worthwhile, you want to pass on to another, from flying a kite to living for Jesus, is going to require you invest the time to show them, explain, model, and coach them until they catch on.